Have you ever felt frustrated by slow speeds or regional blocking when using Telegram? Wish you could access Telegram securely and anonymously no matter where you are? Then it's time to unlock the full power of this popular messaging app with the best Telegram proxies of 2023.
In this comprehensive guide, we'll explore what Telegram proxies are, why they're valuable, how to choose the right one, and how to configure proxies for the optimal Telegram experience. Read on to take your Telegram usage to the next level!
Let's delve into the world of Telegram proxies and how to choose the best ones for you.
The best Telegram proxy provider of 2023
1. SOAX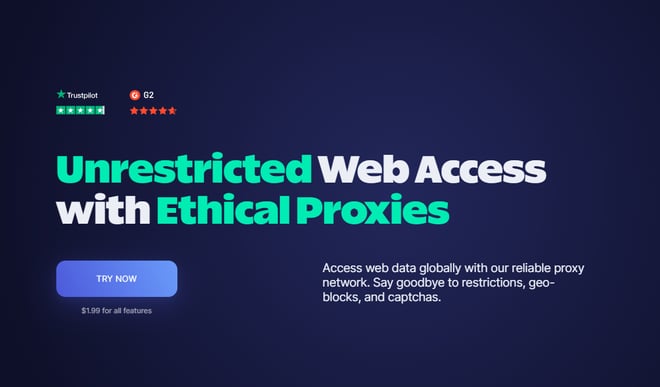 SOAX offers one of the largest proxy pools with over 155 million residential and 33 million mobile IPs. Their proxies cover 195+ geos and include major protocols like HTTP(s) and SOCKS5.
Where SOAX excels is in providing excellent performance with fast speeds, great uptime, and unlimited concurrent connections. Ideal for large-scale developers. Their network tools like IP targeting and rotation make accessing Telegram seamless.
Key Features
155M+ residential and 33M+ mobile IPs

Global proxy locations (excluding the State of Texas, USA)

Pricing from $6.60/GB

Residential, mobile, datacenter, and ISP proxies
Pros
Fast proxy speeds and reliability

Advanced targeting and rotation capabilities

User-friendly dashboard

Scraping APIs and integrations
Cons
No pay-as-you-go option

No free trial due to security reasons
Bright Data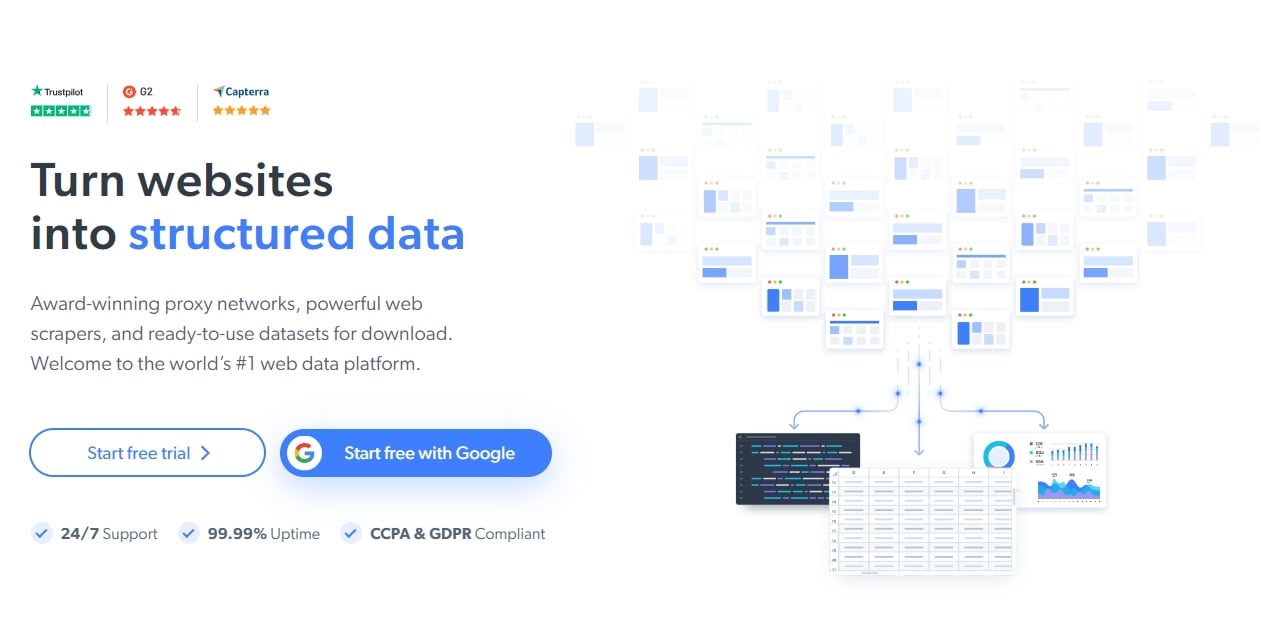 Bright Data is a prominent player in the proxy service industry, offering a suite of residential, mobile, and datacenter proxies. Their standout product is their datacenter proxy network, which is, however, only accessible within the US.
While Bright Data provides a comprehensive service within the US, its scope is limited to this region. This could pose a challenge for businesses in need of a global reach.
Key Features
72M+ residential and 7M+ mobile IPs

195+ country coverage

Pricing from $8.04/GB residential

All major protocols supported
Pros
Massive and diverse IP poo

Advanced network analytics

Documentation and account support

All protocols supported
Cons
Expensive compared to some providers
Smartproxy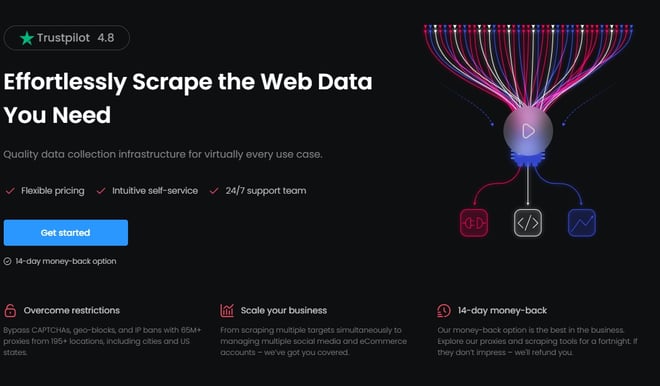 Smartroxy offers a large pool of over 50 million residential IPs covering 195+ countries. Their proxies focus on tool integrations and scraping capabilities.
Where Smartproxy delivers value is its unlimited connections, web scraping APIs, and support for SOCKS5/HTTP proxies. Offering an affordable solution for scraping.
Key Features
50M+ residential IPs

Global coverage

Pricing from $6/GB residential

Coverage: 186 countries
Pros
Budget-friendly pricing

Unlimited concurrent connections

Integrates with scraping tools

SOCKS5 and HTTP support
Cons
Limited city and ISP targeting options
Oxylabs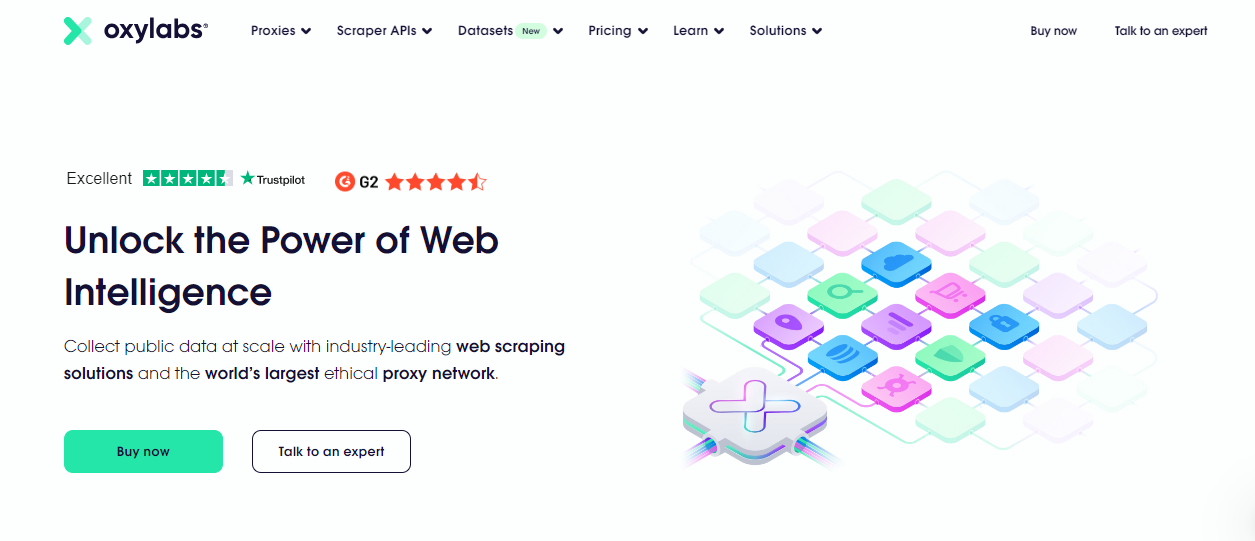 Oxylabs is known for its large proxy network with over 100 million residential and 20 million mobile IPs covering 140+ countries.
Where Oxylabs excels is providing advanced proxies APIs, ready-made scraping solutions, and excellent success rates.
Key Features
100M+ residential and 20M+ mobile IPs

140+ country coverage

Pricing from $12/GB residential

Residential, datacenter, mobile, and ISP proxies
Pros
Huge proxy pool with great diversity

Ready-made scraping API

99.95% success rates

Broad protocol support
Cons
Can be more expensive for large usage
Proxy Empire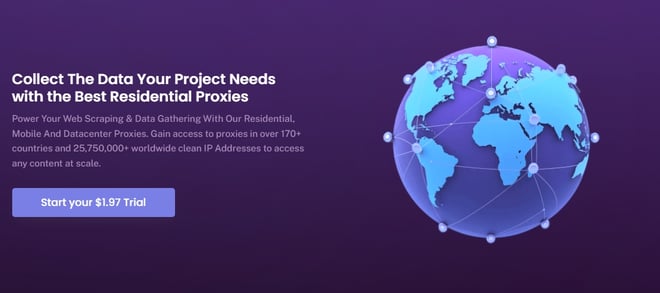 ProxyEmpire offers a pool of over 9 million residential IPs covering 170+ countries. While smaller than some providers, they provide easy setup and 24/7 customer support.
Where ProxyEmpire delivers value is affordable proxies that are quick to set up. Ideal for beginners needing basic proxy access.
Key Features
9M+ residential IPs

170+ country coverage

Pricing from $10/GB residential

Datacenter, residential, and mobile proxies
Pros
Budget-friendly proxy plans

Easy setup and configurations

Round-the-clock customer support

HTTP and SOCKS5 support
Cons
Slower speeds compared to top providers

Limited advanced features
PrivateProxy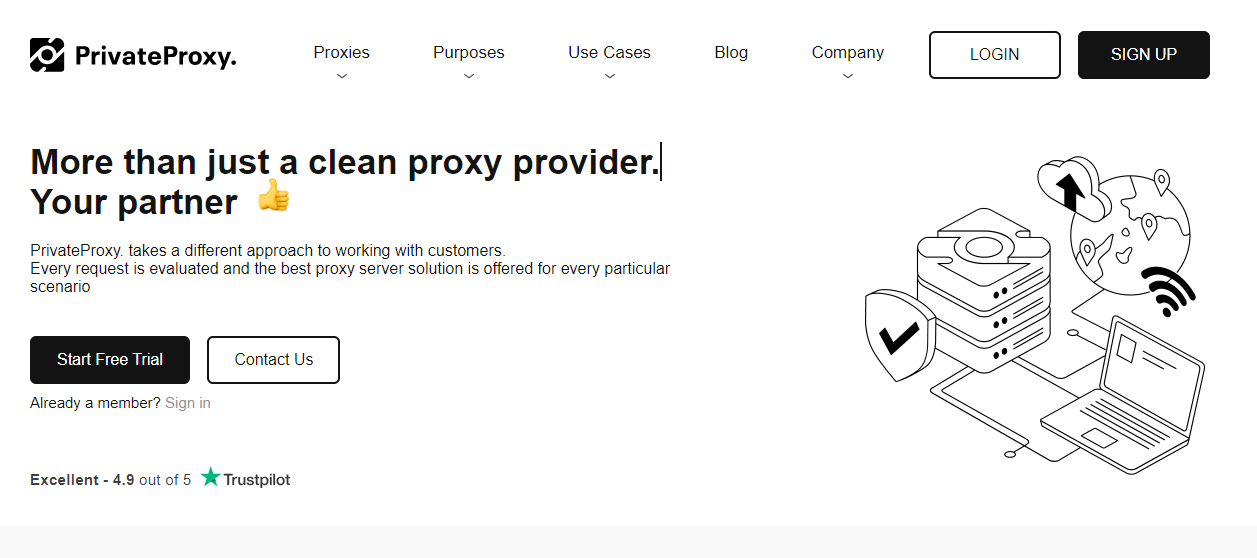 PrivateProxy provides a smaller pool of 6.7 million IPs covering 127+ countries. What they lack in size, they make up for in quality connections and customer service.
Where PrivateProxy shines is delivering reliable proxies with unlimited connections. A great basic proxy solution.
Key Features
6.7M+ IPs

127+ country coverage

Pricing from $5/month residential

Residential and datacenter proxies
Pros
Affordable proxy plans

Reliable connections and performance

Unlimited concurrent connections

Responsive customer support
Cons
Smaller proxy pool than leading providers

Higher latency compared to top vendors
To help you see the overall picture, here's a table overview of leading proxy providers for accessing Telegram and how they compare:
| | | | | | | | |
| --- | --- | --- | --- | --- | --- | --- | --- |
| Provider | Pricing | IP Pool | Countries | Trial | Proxy Types | Pros | Cons |
| SOAX | From $6.60/GB | 155M+ residential, 33M+ mobile | 195+ | 3 days for $1.99 | Residential, Mobile, ISP, Datacenter | Fast, great uptime, unlimited connections, rotating IPs, easy targeting, scraping APIs | No pay-as-you-go option |
| Brightdata | From $8.04/GB residential, $20.40/GB mobile | 72M+ residential, 7M+ mobile | 195+ | 14 days free | Residential, Datacenter, Mobile | Massive IP pool, all protocols, real-time monitoring, great docs | Expensive |
| Smartproxy | From $6/GB residential, $18/GB mobile | 55M+ residential, 10M+ mobile | 195+ | 3 days free | Residential | Unlimited connections, scraping APIs, all protocols | Limited city targeting |
| Oxylabs | From $12/GB residential, $20/GB mobile | 100M+ residential, 20M+ mobile | 140+ | 7 days free | Residential, Datacenter, Mobile, ISP | Ready-made scraping APIs, 99.95% success rate | Higher pricing |
| ProxyEmpire | From $10/GB residential, $21.5/GB mobile | 9M+ residential | 170+ | $1.97 trial | Datacenter, Residential, Mobile | Low cost, easy setup, 24/7 support, all protocols | Slower speeds |
| PrivateProxy | From $5/month residential, $9/month datacenter | 6.7M+ | 127+ | Free trial | Residential, Datacenter | Reliable, unlimited connections | Smaller pool, higher latency |
In summary, SOAX stands out as the top choice for most Telegram users with its combination of a large IP pool, reliable 99.9% uptime, flexible plans, and extensive protocol support. While there isn't a pay-as-you-go option available, the 3-day trial is highly useful for testing the services.
Brightdata and Oxylabs are ideal for tech-savvy users with their advanced proxy APIs that offer deep customization. However, it is not so budget-friendly.
Meanwhile, Smartproxy provides an affordable option focused on screen scraping.
Key factors to consider or how to select the perfect proxies
After organizing the multitude of providers and their diverse offerings, let's now identify the crucial factors to consider when selecting the most suitable proxies for your needs.
Speed: Proxies that offer the fastest speeds by minimizing latency and routing time. Look for providers with a robust infrastructure.

Security protocols: HTTP and SOCKS proxies are commonly regarded as the most secure options. MTProto also has strong encryption.

Anonymity level: Residential proxies provide the highest anonymity. Datacenter proxies offer less privacy.

Locations: Choose proxies located near Telegram servers for the best performance.

Pricing: Compare proxy plans across providers to find one that fits your budget.

Reliability: Check reviews and uptime history to ensure reliable proxy servers.
Now that you have an overview of the providers' possibilities and prices, as well as an understanding of which proxies are ideal for accessing Telegram, let's delve into the reasons why utilizing proxies for Telegram is worth considering.
Why do you ever need proxies for Telegram?
Telegram proxies act as an intermediary between your device and Telegram's servers. When you connect through a proxy, all your Telegram requests are first sent to the proxy server instead of going directly to Telegram.
The proxy then forwards your encrypted data packets to Telegram on your behalf. This masks your real IP address, hiding your digital footprint from snooping eyes. The proxy also utilizes optimized routing to provide faster speeds and greater reliability.
Here's a quick rundown of the key benefits Telegram proxies provide:
Bypass geo-blocks and access Telegram anywhere: Proxies let you circumvent regional blocking and use Telegram hassle-free globally.
Enhanced privacy and anonymity: Proxies hide your IP address, preventing anyone from tracing conversations back to you.
Faster speeds and better reliability: Proxies boost speeds by routing your traffic through optimized channels. This is especially useful for calls and large file transfers.
Anti-spam and security: Proxies add a layer of protection against spammers, hackers, and malicious attacks.
Flexible options: With residential, datacenter, SOCKS, HTTP, and MTProto proxies available, you can find the perfect match for your needs.
So what are the best proxies to choose?
For Telegram power users, proxies are an indispensable tool for taking your experience to the next level. Let's see how different types of proxies work their magic when accessing Telegram.
HTTP proxies: These are versatile proxies that receive your request, anonymize it, and pass it along to Telegram through HTTP protocol.
SOCKS proxies: More efficient than HTTP proxies, SOCKS proxies offer lightning-fast speeds by reducing overheads. They are great for bandwidth-heavy Telegram usage.
MTProto proxies: Developed by Telegram specifically for their service, these proxies offer seamless integration and the best performance.
Residential proxies: These utilize IPs of real devices to provide true anonymity. Ideal for privacy-focused users.
The proxy you choose depends on your priorities like speed, security, and anonymity needs. Mixing different proxy types can help balance out their strengths and weaknesses.
Unlock Telegram's full potential
As Telegram continues to gain popularity across the globe, using a specialized proxy is crucial to overcoming geo-blocks while protecting your identity. The right proxy service can unlock Telegram's full capabilities for you—seamless messaging and content sharing worldwide, watertight security, high speeds, and ultimate privacy.
Take your Telegram usage to the next level in 2023 and beyond!