LinkedIn is a popular platform for professionals, where job seekers and companies connect to advance their careers and businesses. It's a vast resource for various purposes. However, manually gathering data from such a massive platform would be incredibly time-consuming. Many turn to bots for automation to streamline the process and collect data efficiently.
But there's a catch – LinkedIn, like other social media sites, frowns upon bots and scrapers and may ban accounts caught using them. LinkedIn proxies come to the rescue to scrape LinkedIn data effectively and securely. Proxies serve as intermediaries between your device and the internet. They hide your IP address and instead, websites see the IP of the proxy server, making it challenging for LinkedIn to detect bot usage and ban your account.
We'll delve into the specifics of proxy types and their ideal use cases for LinkedIn later. But now, let's shift our focus to the top proxy providers for LinkedIn, ensuring that you can effectively scrape data while staying under the radar.
The Top 10 Proxy Providers for LinkedIn of 2023
When selecting a proxy service for unlocking LinkedIn, residential proxies are ideal for mimicking real user traffic. Here are leading providers offering LinkedIn-optimized residential proxies.
1.SOAX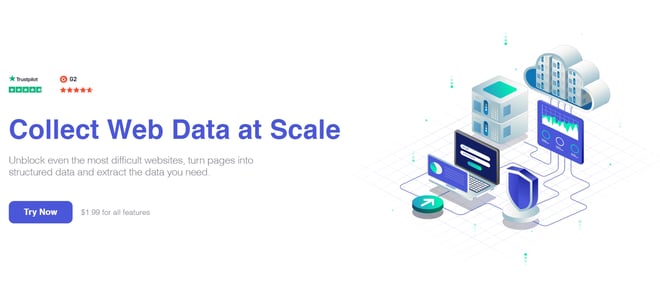 Price: Starts from $99/month for 15GB
SOAX stands as a residential proxy specialist, extending access to a colossal pool of 191 million IPs spanning across 195+ geographies. Leveraging SOAX empowers you to swiftly, dependably, and discreetly access, oversee, and extract LinkedIn data. It's also the go-to solution for unblocking LinkedIn within restricted networks.
SOAX differentiates itself with an adaptable pricing structure, ensuring you only pay for the bandwidth you consume. Furthermore, SOAX offers the capability to filter and cyclically change your proxies based on a variety of parameters such as country, city, region, ISP, and ASN.
This versatile platform is complemented by an intuitive user interface and a dedicated customer support team, enhancing your overall experience.
2.ProxyEmpire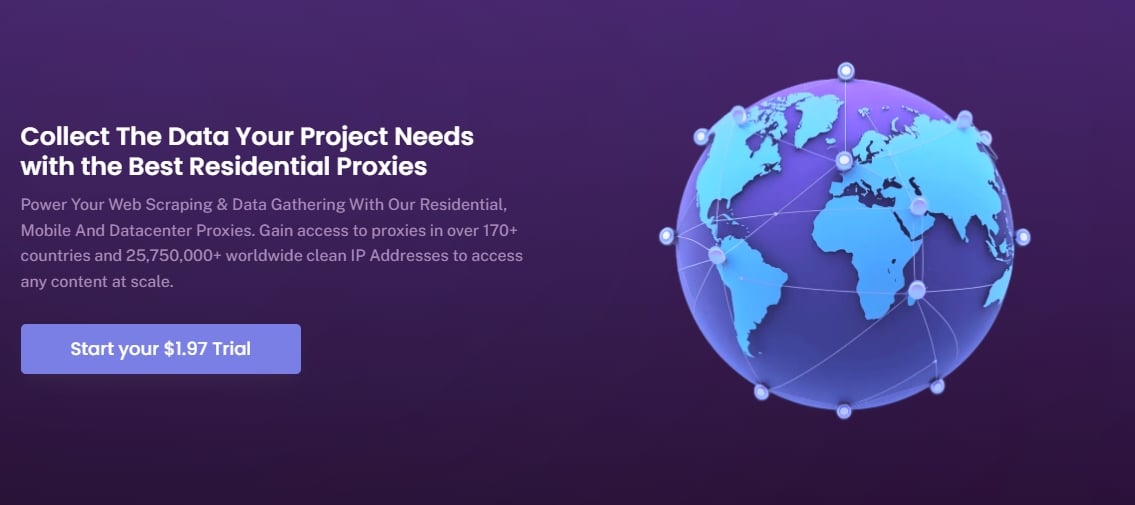 Price: Starts from $15/month for 1GB
ProxyEmpire presents yet another option in the realm of residential proxy providers, ideal for harnessing the power of LinkedIn. This provider boasts an extensive reservoir of residential and mobile proxies, making it an excellent choice for LinkedIn profile scraping and efficient management of multiple LinkedIn accounts.
With a competitive price point starting at just $1.97 during the trial phase, the provider offers unrestricted thread usage. Additionally, you have the flexibility to tailor your proxies based on location, device type, and browser preferences.
3.NetNut

Price: Starts from $300/month for 15GB
NetNut, a provider of residential proxies, presents a swift and dependable network of IP proxies encompassing a vast pool of over 52 million IPs sourced globally. When it comes to gaining swift, secure, and discreet access to LinkedIn data, it emerges as a valuable choice.
What sets this provider apart is its distinctive architecture, deliberately steering clear of peer proxies situated within the United States. This approach elevates anonymity levels and ensures seamless operations. NetNut adopts a flexible pricing structure, enabling you to pay solely for the traffic you consume.
Furthermore, it empowers you to filter and rotate your proxies based on various criteria such as country, city, region, ISP, and ASN. To top it off, it provides an intuitively designed interface and maintains a dedicated customer support team at your disposal.
4.Bright Data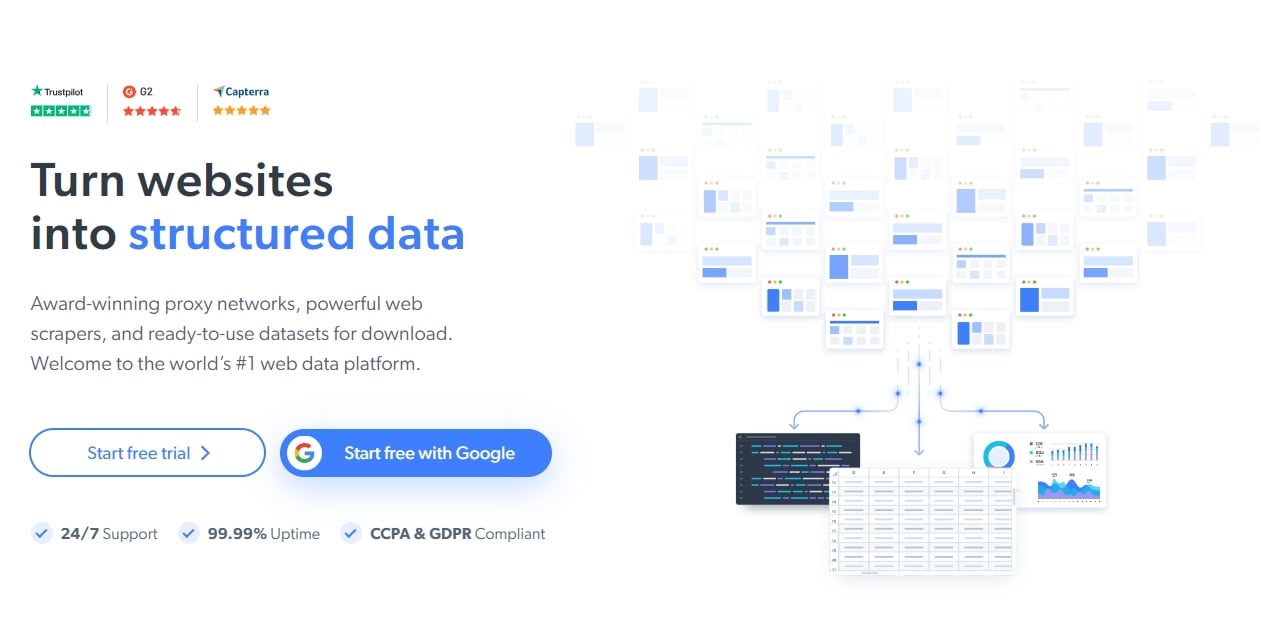 Price: Starts from $500/month for 56GB
Bright Data stands out as a prominent player in the proxy industry, boasting a colossal network of more than 72 million residential IPs spanning the globe. When it comes to gaining access to and extracting LinkedIn data, the provider excels in delivering precision and effectiveness.
Distinguished by its sophisticated capabilities, it offers geo-targeting, IP rotation, session management, and an array of web scraping tools. Furthermore, it extends the opportunity for users to explore its offerings with a generous 7-day complimentary trial period, all while providing access to round-the-clock customer support, catering to enterprise-grade pricing structures.
5.Proxy Seller

Price: Starts from $10/month for 1GB
Proxy Seller stands as a proxy service provider extending a range of residential and datacenter proxies tailored for LinkedIn users. With an extensive network featuring more than 30 million IPs across 100 countries, it is fully compatible with SOCKS5 and HTTP(S) protocols.
They have implemented a pricing structure designed to offer competitiveness, commencing at just $2.14 per month for a single proxy. For those considering bulk orders or long-term subscriptions, the provider extends enticing discounts.
Furthermore, they provide peace of mind with a 24-hour refund policy, and users can readily access their live chat support for assistance.
6.The Social Proxy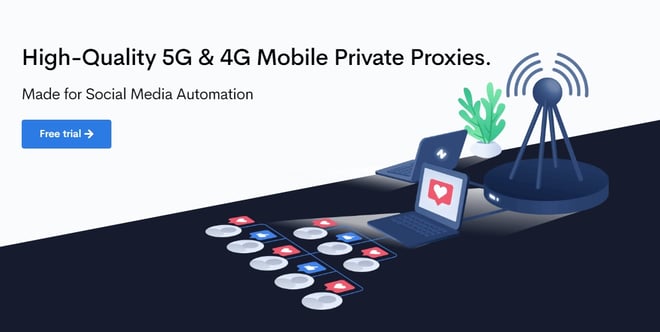 Price: Starts from $133/month for 1IP
Social Proxy specializes in providing proxies for various social media platforms, including LinkedIn. With an extensive pool of over 10 million residential IPs spanning across 12 countries, they provide robust support for the HTTP(S) protocol.
Its primary focus is to assist you in efficiently managing and automating multiple LinkedIn accounts, all while avoiding the risk of bans or detection. They offer competitive rates for unlimited traffic and provide access to high-speed 4G and 5G proxies.
Additionally, you have the option to explore their services through a complimentary 3-day trial period.
7.Smartproxy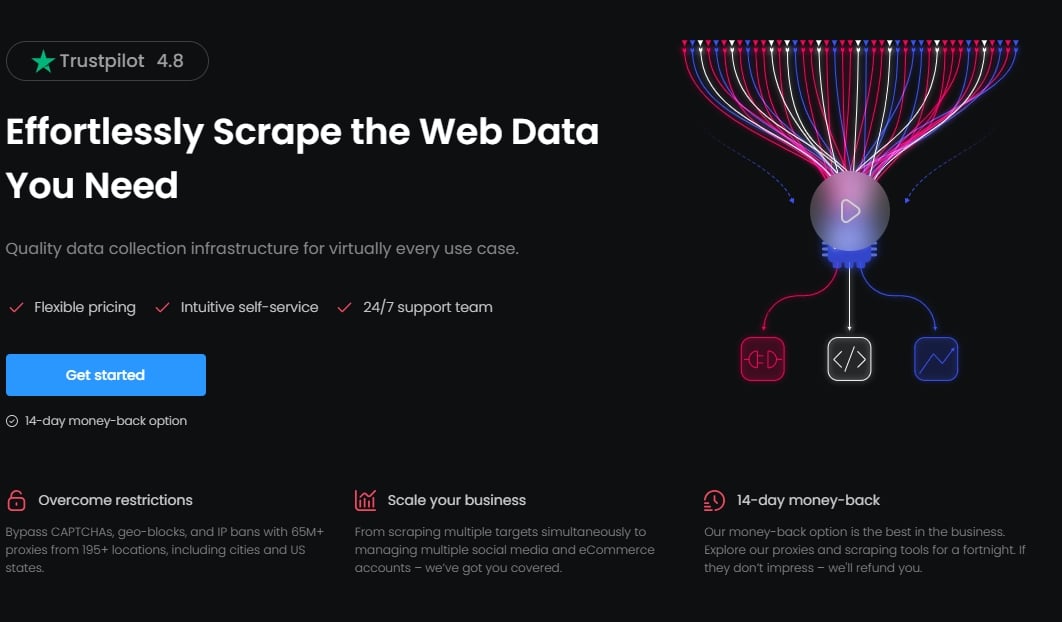 Price: Starts from $14/month for 2GB
Smartproxy is another popular proxy provider that offers residential proxies for LinkedIn. With access to over 40 million IPs across 195 locations and support for the HTTP(S) protocol, the provider delivers the high-quality performance you need to access and scrape LinkedIn data effectively.

In addition to a flexible pricing system, you can also enjoy a 3-day money-back guarantee and access to our 24/7 customer support service.
8.Storm Proxies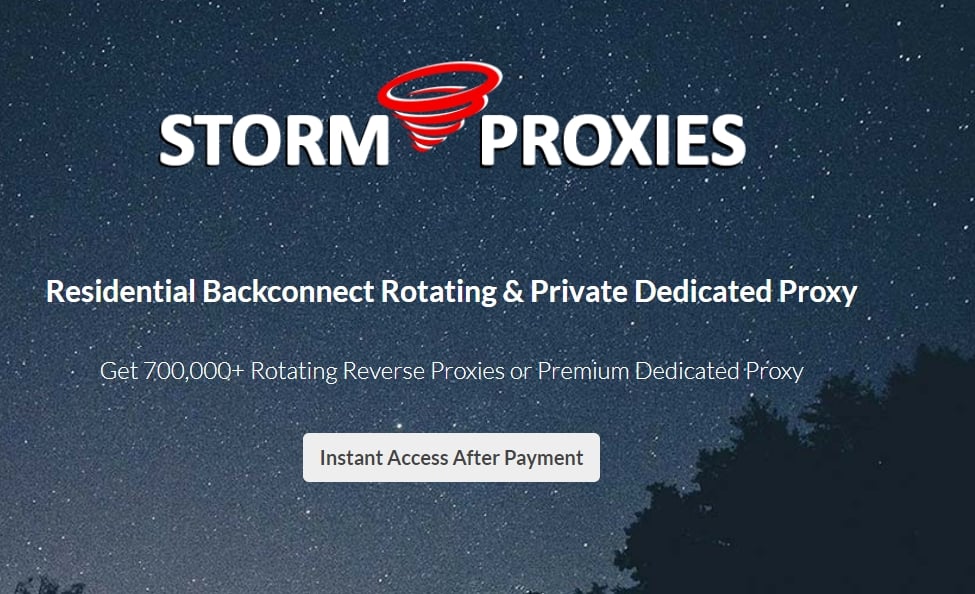 Price: Starts from $15/month for 5 private IPs
Storm Proxies offers a variety of proxy solutions suitable for LinkedIn, including both residential and datacenter proxies. Boasting an extensive pool of over 700,000 IPs covering the US and Europe, this service ensures support for the HTTP protocol.
Starting at a mere $3 per IP, it is a cost-effective solution with 1GB/s speed and unlimited bandwidth. This allows for a seamless and uninterrupted experience, with the added benefit of supporting up to 50 threads concurrently.
Moreover, you have the option to evaluate their services risk-free through a complimentary trial and take advantage of their 24-hour refund policy.
9.High Proxies
Price: Starts from $2.88/month for 1IP
High Proxies serves as a proxy provider specializing in residential proxies tailored for LinkedIn usage. Their extensive IP range encompasses regions like the US, Canada, Europe, Australia, and Asia, all of which are compatible with the HTTP(S) protocol.
High Proxies proves instrumental in enhancing your LinkedIn profile and facilitating competitive intelligence efforts. With pricing starting at just $2.88 per month for a single proxy, it offers a cost-effective solution.
Furthermore, substantial discounts are available for bulk orders and extended subscription plans.
10.Rayobyte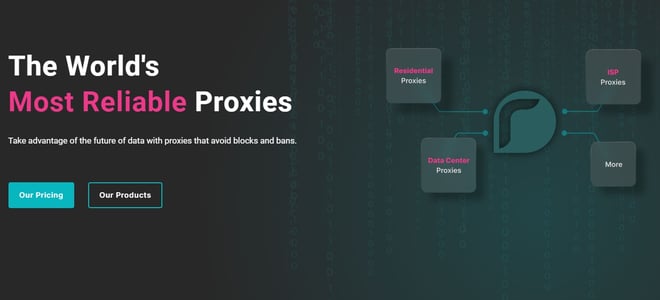 Price: Starts from $3/month for 1Gb
Rayobyte serves as a proxy supplier specializing in residential proxies tailored for LinkedIn, extending support to both HTTP(S) and SOCKS protocols. It proves invaluable when it comes to swiftly and securely scraping LinkedIn data.
The attractive pricing at just $3 per month unlocks access to 1Gb of data, ensuring affordability. Additionally, they generously offer a 2-day complimentary trial, allowing you to test their services before making a commitment. Moreover, their 24/7 customer support is readily available to assist you when needed.
To ensure uninterrupted and unlimited access to LinkedIn while avoiding bans or geo-blocks, the first rule is to select a dependable proxy provider. Additionally, it's essential to recognize that when employing proxies with LinkedIn, you have the option to choose between residential and datacenter proxies, depending on your specific use case.
Choosing the right proxy type
When using proxies with LinkedIn, you can choose between residential and datacenter proxies based on your specific use case:
Residential proxies are best suited for:
Scraping user profile data, posts, company pages, and other public info in a natural way. For example, a recruiter efficiently manages multiple LinkedIn accounts without triggering bot detection.

Managing multiple LinkedIn accounts without triggering bot detection systems.

Accessing worldwide LinkedIn content by targeting residential IPs globally. Thus, for instance, a market researcher scrapes user profiles and company pages for data analysis.
Datacenter proxies excel at:
Faster connection speeds which help quickly extract LinkedIn content. For example, a content creator can access blocked content faster using datacenter proxies.

Cost-effectiveness, if you have simple LinkedIn needs like accessing some blocked content.

Working seamlessly with custom automation tools and scripts.
To make an informed decision, let's compare the two proxy types side by side. Here's a quick overview:
Proxy Type
Strengths
Goal
Residential
Natural behavior, reliability, global access

Efficiently scrape user data and maintain multiple accounts.

Datacenter
Speed, cost-effectiveness, automation compatibility

Quick access to LinkedIn data with a focus on speed.
Custom automation and scripting.
For most LinkedIn goals, residential proxies provide the right blend of reliability, targeting options, and residential-grade performance. Datacenter proxies complement them well with improved speeds. By blending residential and datacenter proxies caters to a mix of use cases optimally. Just keep their relative strengths and limits in mind!
Why use LinkedIn proxies?
We have explored the differences between residential and datacenter proxies, providing insights into how each type suits distinct LinkedIn-related tasks. Now, it's time to delve deeper into the "why" behind using LinkedIn proxies. Understanding the motivations and benefits of leveraging proxies on this professional platform will not only empower you to maximize your LinkedIn endeavors but also ensure that your interactions on the platform remain secure, efficient, and uninterrupted. Let's explore why LinkedIn proxies are indispensable tools in your professional arsenal.
Data scraping
LinkedIn's API has strict limits. Proxies allow you to gather large datasets of valuable public information at scale for analysis:
Company pages: Scrape tens of thousands to build lead lists and reveal cross-relationships.

Member profiles: Gather millions to analyze skills, roles, and locations at a macro level.

Groups and posts: Extract discussions around topics of interest for sentiment analysis.

Job listings: Compile large datasets to uncover hiring trends and patterns.
Managing multiple accounts
Efficiently manage multiple LinkedIn accounts from a single source without detection:
Sales teams control separate accounts for personalized outreach at scale.

Individuals maintain professional and hobby profiles without blending identities.

Brands cycle through accounts to promote content, ads, and manage industry conversations.
Enhancing privacy
By hiding your real IP and identity, proxies provide an added layer of privacy when interacting extensively:
Discreetly browse industry connections, groups, and posts beyond normal levels.

Keep your main professional identity secure while networking broadly.

Obscure your location, employer, and other personal details.
Overcoming location restrictions
Certain company pages, jobs, and content get geo-restricted by LinkedIn. Proxies bypass these limitations by routing your traffic through global IP addresses. Proxies enable accessing worldwide content unavailable in your region:
Job listings specific to certain countries.

Company pages, posts targeting other geos.

Paid media, Premium ads with geographic restrictions.
Scaling your activities
Proxies distribute your workload across multiple IP addresses to seamlessly scale up LinkedIn usage without triggering bot thresholds so you can seamlessly scale usage before hitting limits:
Send exponentially more customized connection requests.

Grow groups, pages, and communities rapidly.

Spread content promotion across geo-targeted campaigns.
Having discussed the advantages of residential and datacenter proxies and understanding why LinkedIn proxies are essential, let's now focus on maximizing your LinkedIn proxy usage. These tips and strategies will help you make the most out of your chosen proxy type, ensuring that your LinkedIn interactions are efficient, secure, and uninterrupted.
Maximizing your LinkedIn proxies
To make the most of LinkedIn proxies, keep these tips in mind:
Rotate IPs frequently
LinkedIn has a rate limit of how many requests you can send from the same IP address in a certain period of time. If you exceed this limit, you might trigger LinkedIn's anti-bot system and get your account suspended or restricted.
To avoid this, you should use rotating proxies that change your IP address automatically after every request or at regular intervals.
Target relevant locations
LinkedIn monitors the geographic consistency of account activities. Matching your proxy's location with your account's expected location helps maintain a natural online presence.
Implement proxy authorization
Insert proxy authorization into your scraping scripts, bots, and browsers to tunnel traffic through intermediary IPs. This step allows you to establish a seamless connection through your chosen proxies.
Moderate your usage
Avoid sudden spikes in activity that may trigger LinkedIn's security mechanisms. Stay within reasonable usage limits to prevent your account from being flagged or restricted. Adhering to these limits ensures that your LinkedIn activities remain under the radar.
With prudent configuration and usage habits, LinkedIn proxies will transform what you can achieve on the platform, without falling victim to bot detection systems.
FAQs About LinkedIn Proxies
How to set up and configure LinkedIn proxies?
Install browser extensions like FoxyProxy or Proxy SwitchyOmega that can help you set up and use proxies with LinkedIn easily. Add your proxy settings and credentials to the extension.
Once you have added your proxy settings and credentials to Proxy SwitchyOmega, you can switch between different proxies with one click. You can also create different profiles for different websites and assign different proxies to them.
For example, you can create a profile for LinkedIn and assign a proxy from the US to it. Then, whenever you visit LinkedIn, Proxy SwitchyOmega will automatically use the US proxy for it.
For automation scripts, inject proxy credentials directly into your code.
How can I test and verify my LinkedIn proxies?
Proxy checkers allow testing proxies by providing metrics like response time, success rates, geo-location, and other parameters specifically for LinkedIn so you can pick the best-performing IPs.
What should I do if my proxies encounter issues with LinkedIn?
Check your proxy dashboard for any blocked or flagged IPs and remove them from rotation. Target fresh proxy IPs, moderate your usage further, and integrate proxy management tools to troubleshoot bottlenecks.
How many proxies do I need for scraping LinkedIn?
The number of proxies you need for web scraping LinkedIn depends on the size of your scrape. As a general guideline, having more proxies tends to be better, especially when dealing with particularly difficult websites.
Now It's time to put your newfound knowledge into action and take your LinkedIn experience to the next level.
Happy proxy surfing on LinkedIn!