Twitter, or as of late, 'X', can sometimes feel restrictive, with geo-blocked trends and content based on your location.
Shadowbans if you switch accounts too quickly. Data access limits while scraping valuable tweets. It's like trying to surf the open ocean while trapped in a wave pool. The barriers are endless.
Luckily, there is a way to break free. A tool to access the platform's full potential and capabilities. Twitter proxies unlock the gates to unrestricted usage. These intermediary IP addresses disguise your identity and patterns to avoid Twitter's detection systems.
With proxies, you can:
Scrape valuable public data at scale without triggering bans.

Manage multiple accounts seamlessly for marketing campaigns.

View region-exclusive trends and conversations from anywhere.

Automate Twitter tools and bots without restrictions.
This guide will help you use Twitter proxies for greater flexibility and control. We'll explore:
1. Top proxy providers for Twitter and compare leading proxy services dedicated to enhancing Twitter access through features like IP rotation, targeting, and integration support.
2. Twitter proxy types and discover which proxy types like residential, datacenter, ISP, and mobile are best suited for specific use cases like scraping and account management.
3. Configuring proxies for Twitter across desktop, mobile, browsers, and automation scripts.
4. Pro tips for configuring and using Twitter proxies wisely to maintain full platform access.
Ready to join the world of power Twitter users? Let's get started!
The Best Twitter Proxy Providers of 2023
Currently, only a handful of providers offer optimized for Twitter. This signifies that these proxies are whitelisted and free from any restrictions or blocks imposed by Twitter. We will speak about it later, but now we offer you a comparison of Twitter proxy service providers to aid you in selecting the ideal solution that aligns with your specific needs and budgetary considerations.
1. SOAX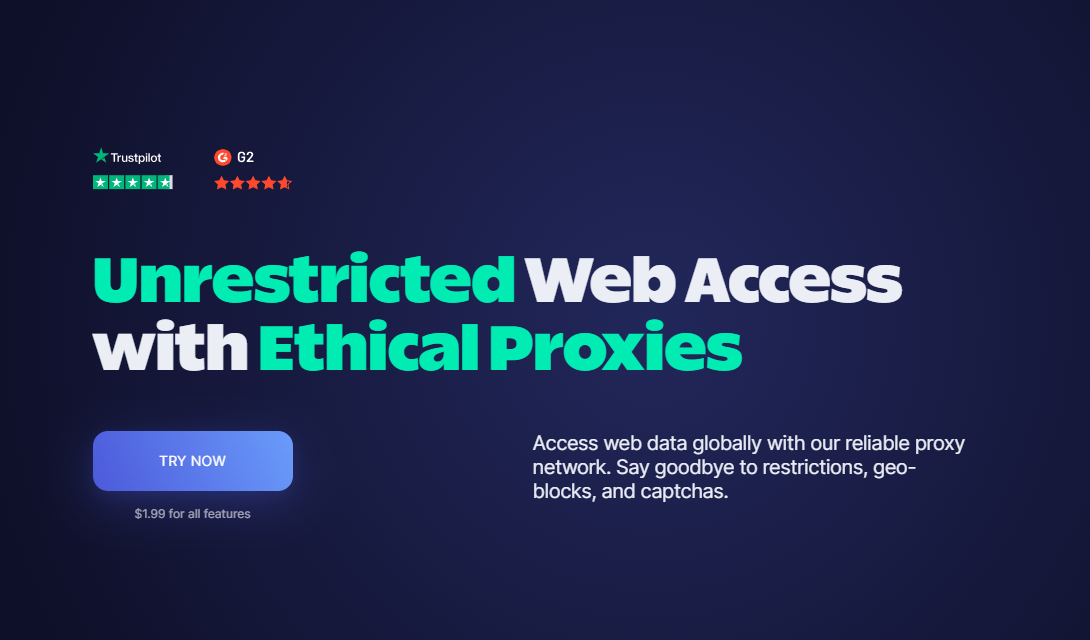 Price starts at $99/month

Bandwidth: 15GB

Why top choice: Advanced targeting and 3-party tool integration
Key Features:
Extensive network: Soax boasts over 8.5 million proxies that are continuously refreshed, providing optimal performance.

Location targeting: Users can pinpoint specific locations down to a city level, ensuring precision in their proxy usage.

Automatic rotation: Schedule tasks effortlessly with SOAX's automatic IP rotation feature.

Privacy and security: SOAX prioritizes user privacy and ensures secure, untraceable digital actions using their proxies.

Scalable plans: Offers scalable plans to meet diverse usage needs, catering to both individual users and businesses.

Price options: Choose from prepaid plans, starting at $6.60 per GB.

Global coverage: With 191 million IP addresses in 195+ locations (excluding the State of Texas, USA), SOAX offers a reliable, global network with 99.99% network uptime.

Diverse proxy types: SOAX provides residential, ISP, and mobile proxies, meeting various demands with options like real-peer devices, real home IPs, and a massive 3G / 4G / 5G / LTE mobile network.

Excellent Trustpilot score: With a 4.8 rating on Trustpilot and an Excellent badge, SOAX is highly regarded by users for its fast setup, reliable service, and exceptional support.
2. Smartproxy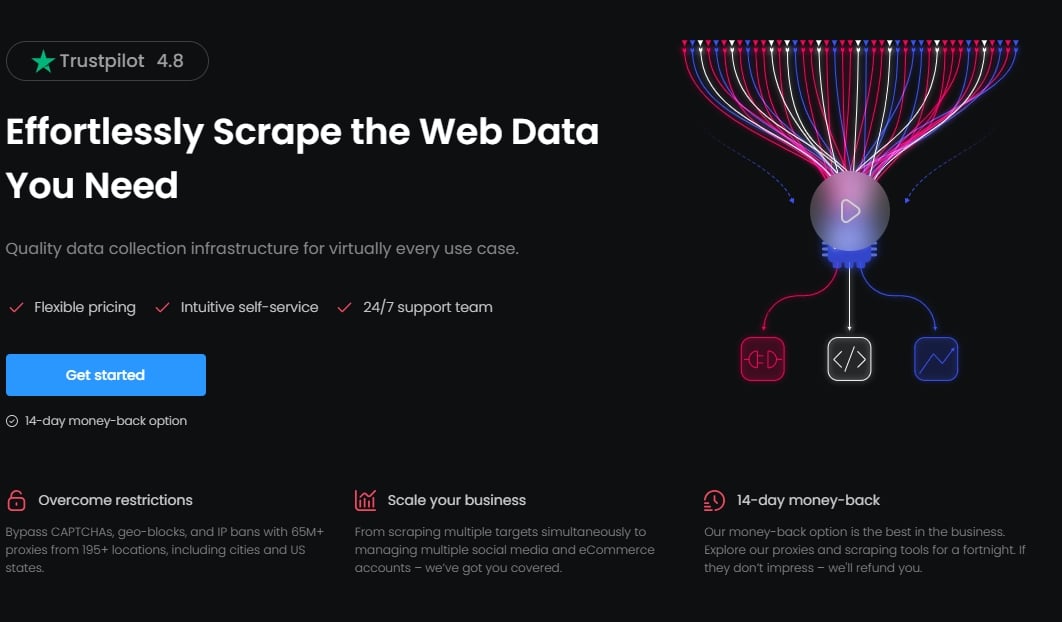 Price starts at $150/month

Bandwidth: 25GB

Why second-best: Budget-friendly with a pay-as-you-go option.
Key Features:
Fast and easy setup: Smartproxy ensures a quick and hassle-free setup, delivering top-tier anonymous browsing without the wait.

24/7 support: Access a knowledgeable support team round the clock for assistance, making your experience seamless.

Affordable and accessible: Choose from budget-friendly plans suitable for entrepreneurs and growing businesses alike. The intuitive dashboard simplifies proxy management.

Wide range of locations: Smartproxy offers global coverage with 195+ location options, including essential regions like the USA, UK, Canada, Germany, Japan, and India.

Proxy types: Datacenter and Residential are available, catering to various needs.

Large IP pool: Benefit from a vast pool of 40 million+ rotating IPs, ensuring reliable and anonymous browsing for all your requirements.

Notable features: Three web scraping APIs (including a no-code scraper).
3. ProxyEmpire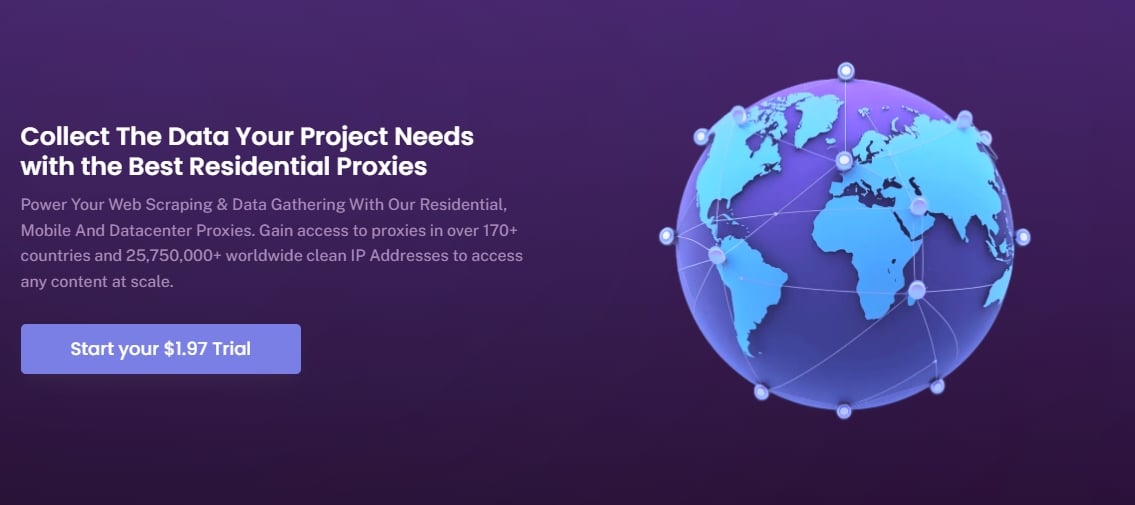 Price starts at $150/month

Bandwidth: 15GB

Why top choice: Lowest cost per GB model
Key Features:
Large IP pool: ProxyEmpire offers a vast and diverse pool of IP addresses, ensuring better anonymity and versatility for users.

High anonymity: The service provides top-notch privacy and security, making it extremely difficult to trace online activities back to the user.

Customer support: Enjoy 24/7 customer support to assist with any concerns or issues you may encounter.

Compatibility: ProxyEmpire.io's proxies are compatible with all major operating systems and software, simplifying integration into your existing workflows.

User-Friendly interface: The intuitive interface makes it easy for users to select, manage, and utilize their proxies.

Price: ProxyEmpire offers pricing plans starting at $1.97 with a pay-as-you-go option.
4. Oxylabs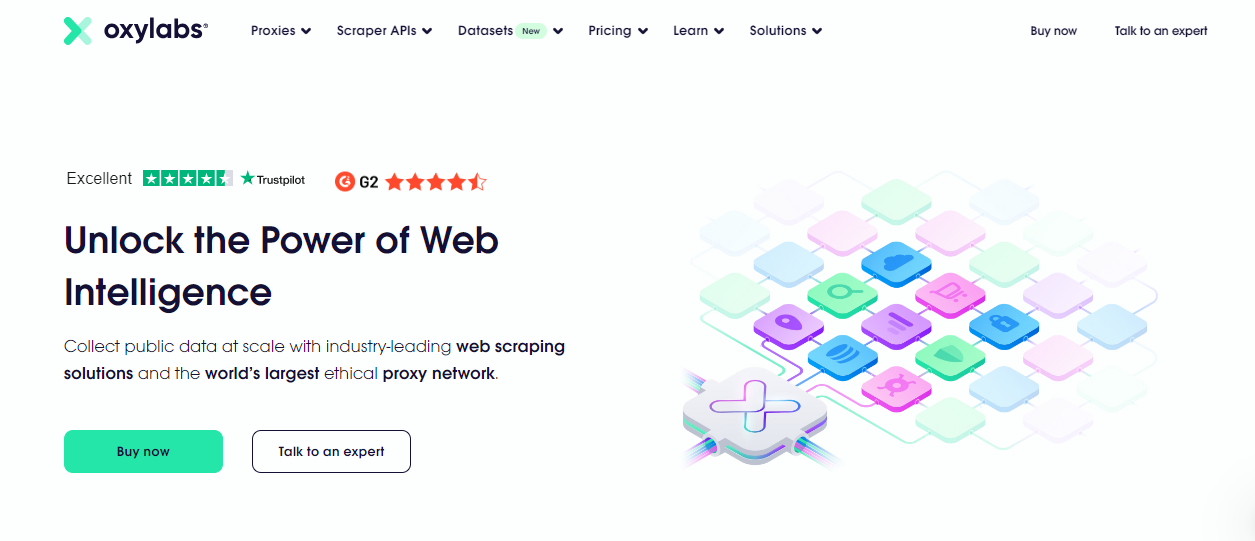 Price starts at $300/month

Bandwidth: 12GB

Why top choice: Reliability at scale for heavy usage
Key Features:
Super-large proxy oool: Oxylabs boasts an extensive proxy pool with over 100 million IP addresses, ensuring reliable and diverse options for users.

Worldwide coverage: With worldwide coverage, Oxylabs allows users to break through geo-location restrictions, making it an ideal choice for managing multiple Twitter accounts from anywhere in the world.

Consistent high Success Rate: With a remarkable success rate of 99.95%, users can rely on Oxylabs for consistent and dependable proxy services.

Easy integration: The service offers straightforward integration of residential proxies, simplifying the process for users.

Intuitive dashboard: Oxylabs provides an intuitive dashboard that allows users to control data easily and effectively.

Privacy and security: Oxylabs prioritizes privacy and security, offering robust controls for an added layer of protection.

Unlimited concurrent Proxy Sessions: Users can enjoy unlimited concurrent proxy sessions, ensuring optimal performance.

Trial and guarantee: Oxylabs offers a 7-day trial period and a 3-day money-back guarantee, allowing users to test the service risk-free.
5.BrightData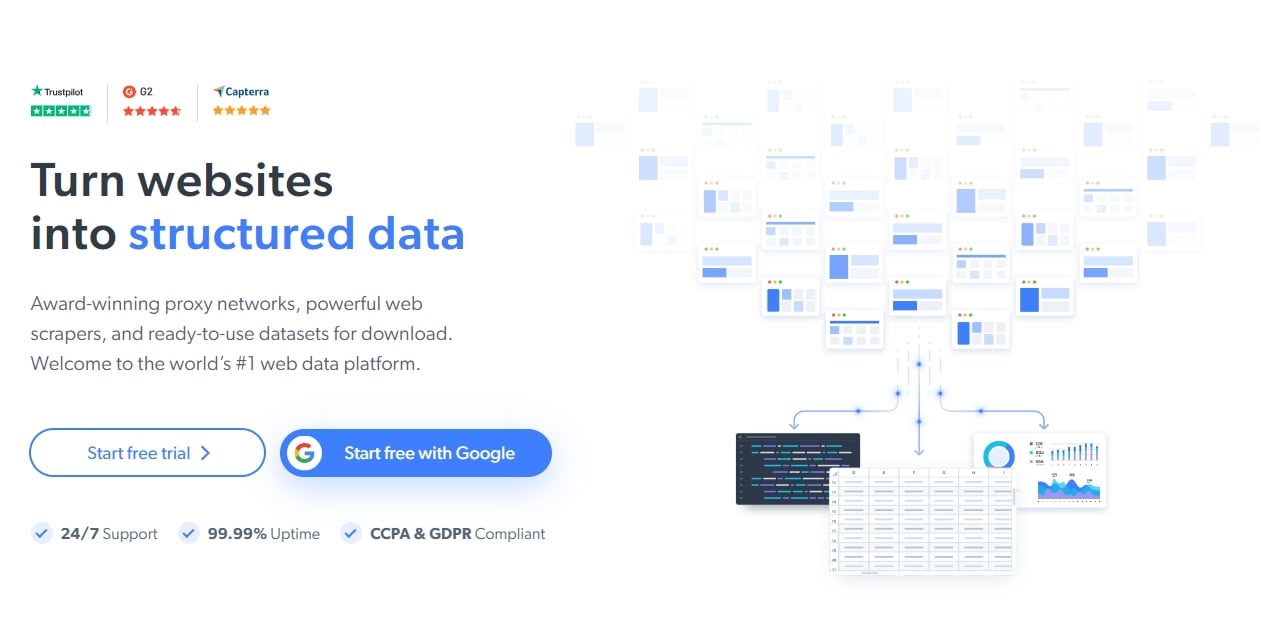 Price starts at $500/month

Bandwidth: 62GB

Why top choice: Real-time monitoring and support
Key Features:
Extensive residential IP pool: Bright Data boasts over 72 million IPs. These include residential proxies from real-peer devices, real home IPs, shared datacenter IPs, and 3G/4G mobile IPs.

Flexible pricing options: Customers can choose between pay-as-you-go pricing, starting at $15 per GB, and prepaid plans, including Starter ($500), Advanced ($1000), Advanced+ ($2000), and custom-priced Enterprise plans.

Global presence: With IPs from 195 countries, Bright Data provides global coverage, ensuring users can access the platform from virtually anywhere in the world with a remarkable 99.99% network uptime.

Diverse proxy types: Bright Data offers a range of proxy types, including residential, ISP, datacenter, and mobile proxies.

Trustpilot reputation: The provider enjoys a strong reputation, with an average Trustpilot score of 4.7 stars, based on customer reviews.

Notable features: Bright Data provides access to multiple proxy types, data collection APIs, web scraping tools, and pre-collected data sets. The provider is known for its polished proxy management infrastructure, technical prowess, and reliable residential proxies. However, it operates under strict usage policies.

Best for enterprises: Bright Data is ideal for enterprises and users with large-scale proxy needs. It excels in technical capabilities, offering fast residential proxies and an extensive IP pool. However, it may not be suitable for everyone due to its premium pricing and strict usage policies.

Browser extension and API: Bright Data offers both a browser extension and an API, facilitating seamless integration with other applications and systems.
6. IPRoyal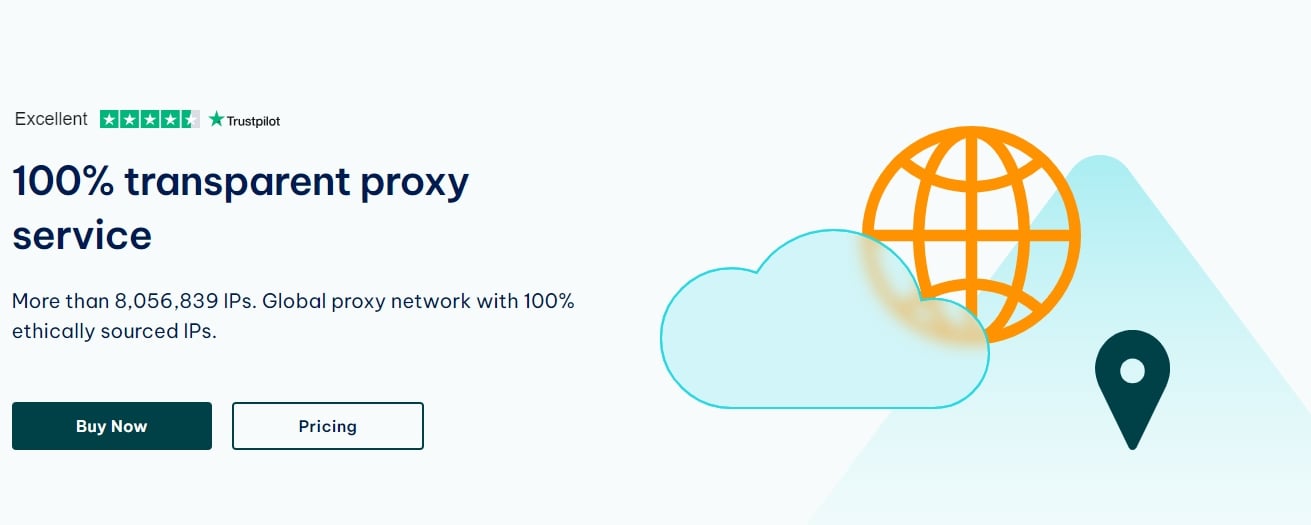 Price starts at $245/month

Bandwidth: 50GB

Why top choice: Secure elite proxies
Key Features:
Diverse proxy types: IPRoyal offers a range of proxy types, including residential, datacenter, mobile, and sneaker proxies, catering to various online needs and objectives.

Customization options: Users can finely tune their proxies by choosing precise locations with city-level accuracy, configuring rotation settings, selecting between HTTP/S and SOCKS5 protocols, and more.

Global IP pool: With access to over 8 million proxies worldwide, IPRoyal ensures ample coverage for individuals and large-scale business projects.

Exceptional customer support: IPRoyal provides round-the-clock customer support with knowledgeable experts ready to assist and guide users to maximize the benefits of their proxies.
7. PrivateProxy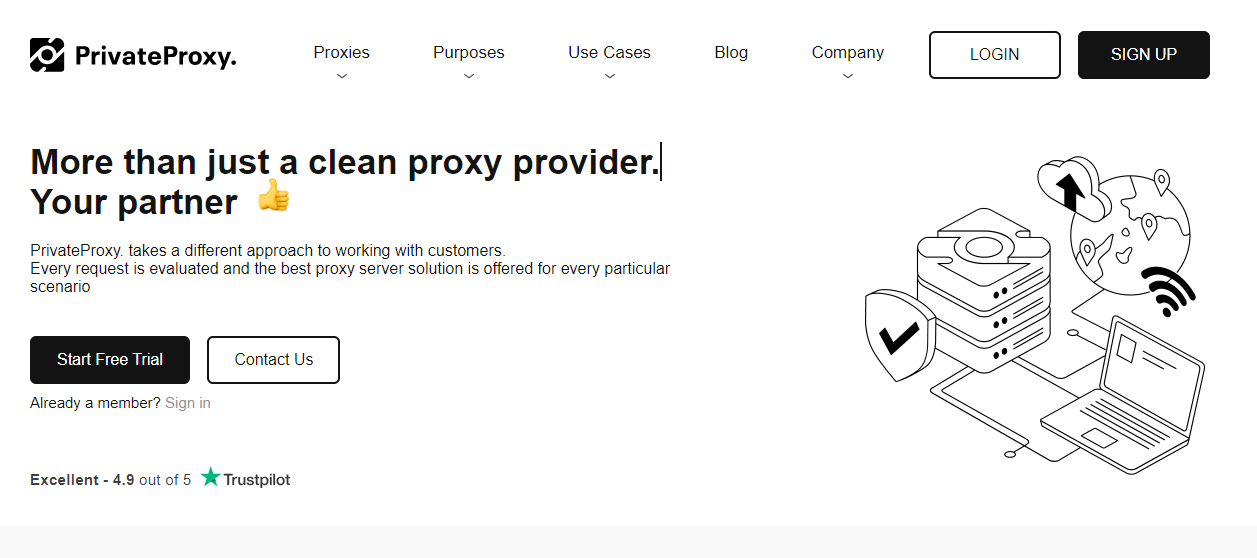 Price starts at $50/month

Bandwidth: 10 residential proxies

Why top choice: Unmetered Bandwidth
Key Benefits:
Wide range of locations: PrivateProxy operates servers in multiple locations, such as the USA, UK, Germany, Hong Kong, and the Netherlands. After purchasing a plan, users can request proxies from specific locations.

Multiple authentication methods: Users can choose between user-pass authentication or IP authorization to authenticate their proxies. PrivateProxy allows up to ten approved IP addresses for proxy usage.

Exceptional customer support: PrivateProxy takes pride in its 24/7 customer support, offering assistance via live chat and email. This ensures quick and responsive help for any inquiries or concerns.

Variety of proxy types: The service offers a range of proxy types, including static and rotating proxies, as well as specialized sneaker proxies. Users also have the option for one free monthly IP swap.
Why use Twitter proxies at all: Twitter proxies or traditional VPNs
Although we speak of proxies as a valuable tool for individuals and businesses looking to make the most of their Twitter experience you, however, might be wondering if a VPN can be the right fit for your specific Twitter-related needs.
The truth is, that both proxies and VPNs can play a role in enhancing your online experience, including your activities on Twitter.
We will dive deeper into scenarios where Twitter proxies shine, providing you with insights into when and why you should opt for this specialized solution.
Twitter proxies are designed with a specific goal in mind, which is to enhance your Twitter experience. Here's how they differ from traditional VPNs
Targeted use cases
Twitter proxies are tailored for accessing Twitter and bypassing geo-restrictions. They are optimized to provide reliable and fast connections to the platform, making them an ideal choice if Twitter is your primary concern. Twitter may be restricted in certain regions or institutions, hence Twitter proxies allow you to access the platform even in areas where it's blocked, ensuring you can stay connected regardless of your location.
IP rotation
Twitter proxies often come with IP rotation capabilities, allowing you to switch between different IP addresses. This feature is valuable for managing multiple Twitter accounts without raising suspicion, as each account can appear to have a unique IP.
Speed, performance, and load-balancing
Twitter proxies typically provide broader flexibility for Twitter-related tasks compared to VPNs, offering a more optimized experience for a range of activities on the platform. They are fine-tuned to ensure faster loading times, which is essential for real-time engagement on the platform. Proxies can distribute traffic across multiple servers or IP addresses, reducing the risk of overloading a single server. This load-balancing mechanism can help ensure the stability and availability of Twitter services, especially during peak usage times.
Efficient data scraping
If data scraping from Twitter is part of your strategy, proxies are a preferred choice. They enable you to automate data collection and minimize the risk of being detected or blocked by Twitter's security systems.
By now, you've gained insights on how proxies can significantly enhance your Twitter experience. However, we're not done yet. Next, we will delve deeper into the specific types of proxies that work best for Twitter. Each type has its own unique characteristics and advantages, ensuring there's a perfect fit for your Twitter-related goals.
Types of proxies that work best for Twitter
So, if you are ready to uncover the ideal proxy solution that aligns with your Twitter ambitions, let's explore the different types of proxies that excel in the Twitter sphere.
Datacenter proxies: Datacenter IPs come from cloud hosting providers and dedicated proxy servers. They are the cheapest proxy option ideal for cost-sensitive use cases like unblocking geo-restricted content. Datacenter proxies also provide very fast speeds - great for activities like posting or interacting at scale. But datacenter IPs have higher chances of being flagged by Twitter since they are dedicated to proxying activities

Residential proxies: These proxies rotate randomized IP addresses from millions of devices globally. Rotation is critical for large-scale automated Twitter activities like scraping or account creation to distribute requests and avoid bans. Residential proxies enable hundreds of concurrent threads for fast data collection at scale. Targeting options by city, region, carrier, and connection type provides advanced use case customization.

ISP proxies: We will categorize ISP proxies separately, although they can be considered a distinct subset of residential proxies. ISP proxies utilize IP addresses from major US consumer internet providers like Comcast, Verizon, and AT&T. Millions of households use these network IPs daily, thus they have strong reputations. Twitter is less likely to block them. This makes US ISP proxies ideal for:

Avoiding sudden account bans when managing multiple Twitter profiles or posting frequently. The IPs appear as normal users.

Accessing content is restricted to certain countries. US ISP IPs are seen as American consumers.

Extended sessions up to 24 hours. Maintain the same IP address while performing long tasks requiring stable connections.

Thus, ISP proxies allow seamless, uninterrupted access to Twitter from a stable American consumer perspective.
Mobile proxies: These are assigned to cellular data networks and mobile devices. They have excellent reputations since banning them would impact many mobile users. This makes mobile proxies effective for avoiding restrictions when scraping or managing accounts. However, mobile proxies are more expensive since mobile IP supply is lower.
So now that we've uncovered the proxy types that are best suited for various Twitter use cases, the next step is learning how to actually implement proxies for Twitter in order to access the platform unrestricted.
Set up Twitter proxies and use them like a pro
Whether your goal is scraping data at scale, managing multiple accounts, or accessing content across borders, you'll need to have Twitter proxies configured properly to maximize results. The good news is that getting set up with Twitter proxies is straightforward on both desktop and mobile, as long as you follow some best practices around usage limits and IP rotation.
We will walk through the quick process of installing proxy extensions for your browsers on your desktop and configuring device-level proxy settings for mobile apps.
On a desktop: Install the proxy extension for Chrome/Firefox and activate it when using Twitter. Popular extensions include FoxyProxy and Proxy Switcher.

On mobile: Set the proxy configuration in your phone network settings or use the browser extension if available. Configure proxies on apps using the device settings.

When coding: When coding bots and automation scripts, integrate the proxy authorization into your application base before making API calls.
Knowing how to configure and manage Twitter proxies effectively is crucial to avoid bot detection and usage restrictions. So let's get you set up with guidance on how to use proxies with Twitter like a pro.
Moderate automation

It's crucial to restrict your automated actions to ensure you stay within Twitter's usage limits. For instance, it's generally recommended to keep your daily follows to no more than 1,000.

Frequent IP rotation

If you're heavily involved in activities like scraping data or managing multiple accounts, make it a practice to rotate your IP addresses regularly. A good rule of thumb is to switch IPs at least every couple of hours. This practice helps maintain a low profile and reduces the risk of detection.

Diverse geographic

Employ proxies from various geographical locations to target trending topics and hashtags effectively. This approach creates a more authentic and natural user experience, aligning with Twitter's expectations.

Compliance with policies

Even when using proxies, always adhere to Twitter's acceptable usage policies. Staying within these guidelines is crucial to maintaining a positive and sustainable presence on the platform.
Unlock Twitter's full potential
Twitter proxies unlock the platform's potential that would otherwise be constrained by geographic restrictions, usage limits, bot detection, and access barriers. Configure and use them thoughtfully, and a whole new world of Twitter possibilities opens up before you. The knowledge in this guide empowers you to surf freely!
Ready to scrape Twitter without limits? See our proxies in action before you get started.